Farmhouse in Montepulciano, in the center of the most beautiful Tuscany
Kingdom of peace and tranquility at the Agriturismo Pescaia
The Agriturismo Pescaia is located in Montepulciano and is immersed in the relaxing greenery of nature, surrounded by tranquility and peace. It is inside the family-run farmhouse which is dedicated to wine grapes and oil production and agritourism accommodation. The hospitality that you will find will be guaranteed by a family that was born and lived in Tuscany for generations. We will be happy to help you with our knowledge of the area and pamper you on your holiday in Tuscany by giving you assistance in both English and French.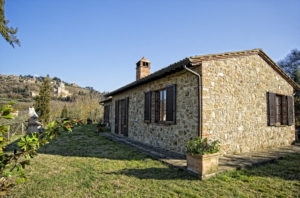 My grandparents, my father's parents, bought this property in 1960. All the successive generations have always maintained and taken care of this land and its products. Finally in 2001 we decided to open this agriturismo to show the world what we do best.
We started from nothing, but with a great desire to work and do anything to reach our dream. Agriturismo Pescaia is special!
Our hospitality
We will make you feel at home. We love taking care of our guests, giving you our suggestions and advice about the local population, good food and fine wine as we are in an area also famous for its art and its nature.
Our family are always at your disposal to give you information and book activities taking place in our surroundings. On the other hand, if you love "dolce far niente", you will always have the opportunity to stay on a farm to enjoy our beautiful panoramic position, the always mild climate and the summer breeze that is not lacking even on the hottest days. If you want you can also help the family during the grape and the olive harvest!
The farm is perfect both for romantic holidays in Tuscany and for a relaxing family vacation with your children.